D3StudioFork v4 by jester
Next generation Diablo 3 save editor (Reaper of Souls & Eternal Collection)
This modding tool is for editing your items, gold, materials, gear, and stats for your Diablo 3 characters (heroes) and profile (account). Developed Based on D3Studio by TonicBox.
Downloads and release notes can be found on the Releases page
This is for creating and sharing D3 modded PS4 saves to download and resign, usually for people who bought Save Wizard. If you don't have Save Wizard or a jailbroken PS4 and would like YOUR PS4/PS5 save to be modded (and keep your heroes!), - or join just to chat! Click below:
Currently updated for Season 28 (v2.7.5) as of February 24th 2023!
---
Exclusive features found only in this editor:
Every single GBID (8,334), Affix (7,352), and Rare Name string (115,669) in the game
Incredible performance: launches and loads saves in a fraction of the time of all other editors, with massively reduced RAM usage
Instant responsiveness: tasks and threading implemented by GoobyCorp

When testing the database of 60k strings, another editor took 41 minutes to launch… but v4.2 launches instantly!

Support for editing the item flag, which only works during Seasonal play

Note that you can only have one Sanctified item equipped at a time

Sanctified items are marked with a plus (+)
Primal Ancient items are marked with an asterisk (*)
Support for toggling every possible item flag in the game
Able to duplicate 1x, 10x, or 50x in one click instead of spamming the old button
Able to paste Tier Quality to selected items, exactly like pasting a Rare Name to selected items
You can edit \db\CurrentSeason.txt if there's a new season before a new editor release
Developed for editing Switch/PS4 seasonal saves instead of Xbox 360/PS3 saves like other editors

This allows for my modern approach to truly unlock every transmog, legendary power, frame, pet, and wing set… including ALL SEASONAL PETS, and the Wanderer's Set + Ethereal transmogs with one click
Old-gen importing cannot affect seasons, so please use D3StudioFast for 360/PS3 legacy methods

Single executable file, with a total of 2 folders and about 16 files in the ZIP, for a total size of ~4.2MB - NOT cluttered with useless HUGE files like other editors
The Stash tab used to have items stuck in different slots when importing from the Locker or a Hero File, but now it will correctly force everything into your Stash
Still the only editor to handle all the new data in S25 Soul Shards (which, along with Ethereals, can still be used in all seasonal play)

If inserting/modifying legit items or opening a save with S25 Soul Shards, you can actually copy/paste/duplicate them without the constant errors from every other editor, and they will behave properly when leveled up in-game
With D3Studio Fork, Soul Shards have always leveled up properly and unlocked new Hell Powers (affixes) when upgraded, just like the legit items

Full support for displaying and editing the 8 missing follower item slots, every single item slot in the game is properly handled: 32 total new slots including generic follower slots and Scoundrel/Templar/Enchantress
Changed "Max All Materials" to "99999999 Materials" so you can still pick up materials in-game
Everything is inside one EXE now
Added "Seasonal" checkbox next to the "Set 21 Dots/Max Stats" button that will instantly convert your character to and from current season
Removed the (Seasonal) text from the Sex/HeroCore dropdown; each season seems to rotate the IDs, so it was unreliable
Fixed type conversion for item IDs to what the game expects: unsigned long - this fixes some rare arithmetic errors
Fixed Blacksmith being set to level 56, correctly goes to 12 now
Error messages are now more descriptive if there is an issue when launching, previously it would ALWAYS say "Fatal Error: Missing libraries"
Added a "Max Positive Stats" button on Hero page next to "Set 21 Dots/Max Stats" for Paragon modding, with updated math to be as potent as possible
Changed colors and layout all around the whole tool, and if an item's prefix is "Jester's" it has a custom color!
Lots and lots of improvements to the UI (e.g. layout improvements, fixed typos) and quality-of-life features (easier duplication, pasting rare names, etc.)
read the extensive v4.0 notes for full changes compared to D3Studio v3.5
---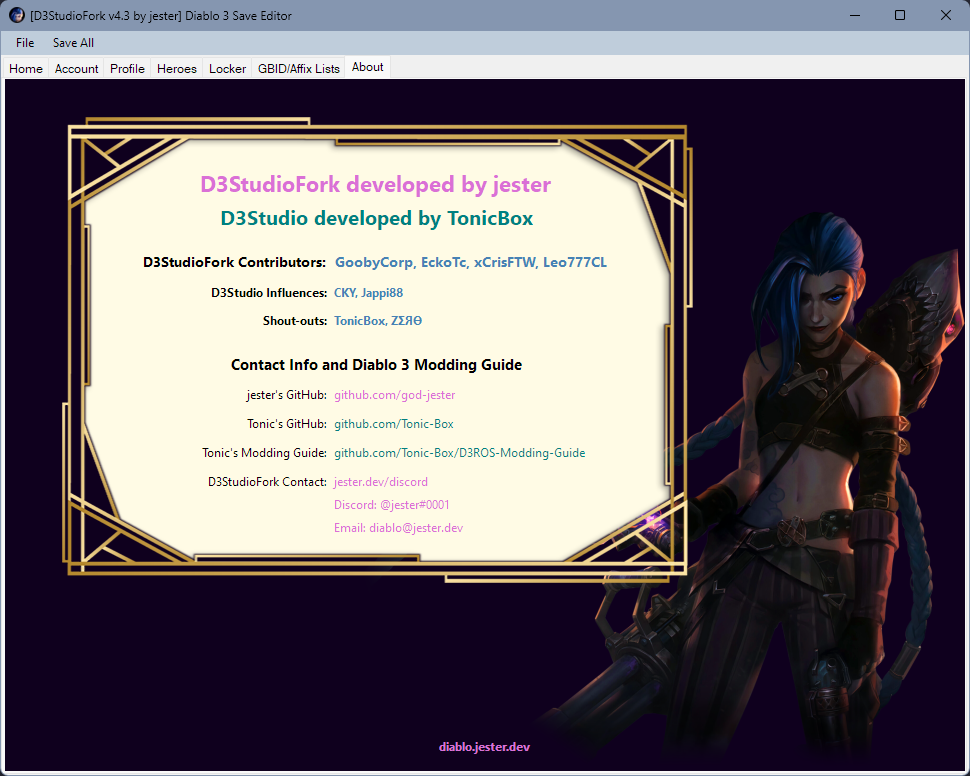 This fork of D3Studio is the fastest and best D3 save/hero editing tool for PS4 (Playstation 4), Nintendo Switch (including Yuzu), and PS5 (Playstation 5) in 2023. This application was made for Diablo III: Reaper of Souls (RoS) and Eternal Collection. It will work with Diablo 3 Vanilla for PS3 (Playstation 3) and Xbox 360, but it is not ideal.
D3StudioFork is also known as D3Studio Fork and D3 Studio Fork: a save modding tool based on D3Studio. It supercedes D3RoSEdit and DIIIROS.SaveEdit (DIII Save Editor) with more and better features. It will not work with Xbox One/Series X|S until a method is discovered to decrypt and edit game saves. Not compatible with the PC version of Diablo 3!